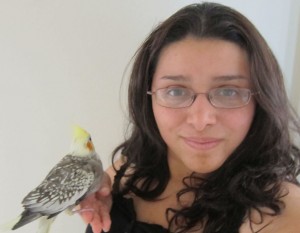 Get to know your future pet sitter:
My name is Carla, owner and operator of Bark! Meow! Chirp! Pet Sitting
I am a licensed business, bonded and insured.
I provide pet sitting inside the customer's own home.  I do not do boarding.  One-on-one attention for your pet!
I am best contacted via text.
I am a member of Premier Pet Sitters of San Mateo – a local group of professional pet sitters. We help each other out in case of emergency so your pet won't be left alone if something were to happen to me.
I will give out referrals to new customers upon request
I've always wanted to work with animal, and spent most of my life learning animal behavior, which translate to a better understanding and working with your pet.
I've had several pets – dogs, cats, birds, fish, rodents, rabbits, and even snails.
Currently, I have one cat, one cockatiel, and one dwarf green pea puffer who reside with me, as well as two dogs and one cat who live with my dad.
I've worked in a Doggie Day Care before, and taken care of multiple dogs at once.
I studied Biology with an emphasis in Zoology in college.
I've taken Herpetology (study of reptiles and amphibians), Entomology (study of insects), Ornithology (study of birds), and Ichthyology (study of fish).
I've know what it's like to leave my pets with a pet sitter, and how it feels to open my home and leave my pets in someone's care.
I have volunteered with wildlife rehabilitation as well as raptor banding.
I have experience bottle feeding baby mammals, including kittens.
I've been in business since April, 2011, but have taken care of pets for friends and family for far longer.
The most interesting species I've ever sat for were hermit crabs.
I'm also very interested in, as well as dabble in, art and photography!
Animals I've had hands-on experience with:
Macaws, African Greys, Cockatoos, Cockatiels, Budgerigars, Eclectus, Conures, Finches, Canaries, Quail, Chickens, Geese, Ducks, Doves, Pigeons, and local wildlife including Hummingbirds, Birds of Prey, Shore Birds, and local Passerines (Juncos, Jays, Sparrows, Starlings…)
Ball Pythons, Corn Snakes, Green Tree Snakes, Asian Water Monitors, Bearded Dragons, Turtles and Tortoises, as well as with local wildlife – Salamanders, Newts, local Snakes, and Skinks.
Dogs (many breeds), Cats (many breeds), Rats, Mice, Hamsters, Guinea Pigs, and Rabbits, and for local wildlife, raccoons and squirrels.
Betta Splendens, Fresh Water Puffers, Minnows, Goldfish, and Platies, and only wildlife experience with any saltwater fish.
More sitter bios to come soon!
Look out for more sitter bios, coming soon!